This hybrid build, comprising both student and apart-hotel units, was optimised by our expert team to improve attractiveness to institutional investors. As well as skilful spatial planning to maximise both capacity and affordability, a natural woodland design was carefully included to promote resident wellbeing.
The Kelaty site is arranged across five buildings ranging in height from four to thirteen storeys, located within the Wembley Park regeneration area, a stone's throw from Wembley Stadium. It's a stunning development which comprises of nearly seven hundred student units and over three hundred apart-hotel units.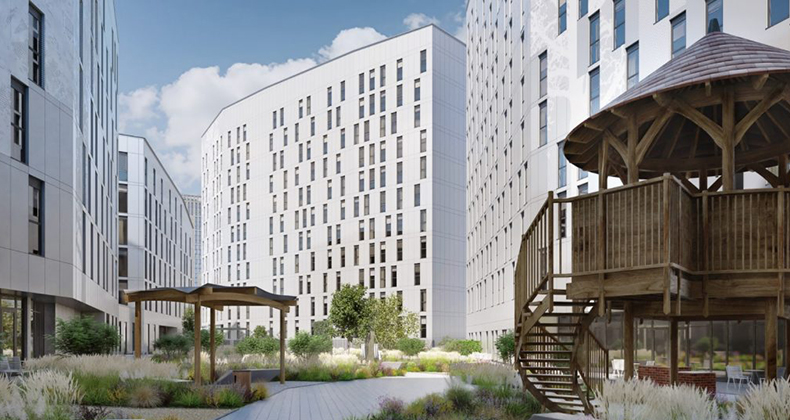 Our expertise unlocked this development; skilful planning allowed us to add an extra 100 units including 35 which were affordable, and we innovatively redesigned the groundworks to improve its attractiveness to institutional investors. Working with our specialist accommodation manager Fresh to create the 'wow' factor for residents, including a natural woodland feel throughout the design to promote student well-being.
The internal courtyard continues the woodland theme and creates a unique environment with captivating tree graphic motifs etched onto façades. The panels were carefully orchestrated mirroring original tree silhouettes. The façade trees along with a beautifully designed and planted large courtyard frame an enchanting tree house for socialising.
The purpose-built student accommodation was forward sold to DWS, who also appointed Fresh to operate the student accommodation, now named Pavilion Court.