Watkin Jones, the UK's leading developer and manager of residential for rent, announces that it has been awarded WiredScore Portfolio accreditation.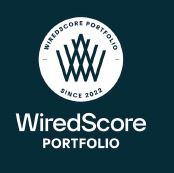 The accreditation acknowledges the Group's best-in-class delivery and execution, and the technology-enabled experience across its portfolio. Watkin Jones is one of a small number of developers and landlords who have achieved this prestigious portfolio award.
Watkin Jones is committed to going above and beyond in terms of its residents' expectations, this includes great digital connectivity and infrastructure. The Group continues to invest in exceptional connectivity in its buildings to create dynamic and resilient homes for residents, to future proof developments for generations to come. The Group is thrilled that its focus on connectivity has been recognised by WiredScore, who provide the globally recognised digital connectivity accreditation.
Tony Garner, Development Director at Watkin Jones, said: "Being connected is a top requirement for residents and that is why from the very earliest design phase we incorporate exceptional connectivity into our building specs. WiredScore Portfolio accreditation recognises this, and they will help us to keep improving our buildings' digital infrastructure so we can always give residents a best-in-class experience."
- Ends -
Media enquiries:
Buchanan (Watkin Jones)
Henry Harrison-Topham / Jamie Hooper
Tel: +44 (0) 20 7466 5000
watkinjones@buchanan.uk.com
www.buchanan.uk.com
About Watkin Jones
Watkin Jones is the UK's leading developer and manager of residential for rent, with a focus on the Build to Rent and student accommodation sectors. The Group has strong relationships with institutional investors, and a reputation for successful, on-time-delivery of high-quality developments. Since 1999, Watkin Jones has delivered 41,000 student beds across 123 sites, making it a key player and leader in the UK purpose-built student accommodation market. In addition, the Fresh Property Group, the Group's specialist accommodation management company, manages nearly 18,000 student beds and Build to Rent apartments on behalf of its institutional clients. Watkin Jones has also been responsible for over 80 residential developments, ranging from starter homes to executive housing and apartments. The Group is increasingly expanding its operations into the Build to Rent sector.
The Group's competitive advantage lies in its experienced management team and business model, which enables it to offer an end-to-end solution for investors, delivered entirely in-house with minimal reliance on third parties, across the entire life cycle of an asset. Watkin Jones was admitted to trading on AIM in March 2016 with the ticker WJG.L. For additional information please visit www.watkinjonesplc.com
About WiredScore
WiredScore sets the global standard for technology in the built world through certification and education. A champion of cutting-edge technology in real estate, WiredScore evaluates, improves, benchmarks and promotes digital connectivity and smart technology in homes and offices on a global scale, ensuring that buildings provide a best-in-class infrastructure that businesses and individuals require to thrive.
Following success in the US, WiredScore launched in the United Kingdom in October 2015 after winning the Greater London Authority's tender to be the official Mayor of London Digital Connectivity Rating Scheme. International demand for the digital connectivity rating system has since seen the company expand operations across North America and Europe. Since then, over 800 million square feet (75m sq m) of commercial and residential space has been committed to WiredScore certification, impacting 8 million people across 36 countries. For more information on WiredScore, SmartScore or to find WiredScore and SmartScore certified buildings, visit: www.wiredscore.com.