Watkin Jones, the UK's leading developer and manager of residential for rent homes, and Legal & General, one of the UK's leading financial services groups and a major global investor, are pleased to announce the recent breaking of ground ceremony at the former Brains Brewery site in Cardiff Quay, signalling that work is now underway to construct over 715 BTR apartments as part of the wider £1 billion regeneration project in the Welsh capital. This new development is situated in a prominent location adjacent to Cardiff train station and forms an integral part of the wider regeneration of the area.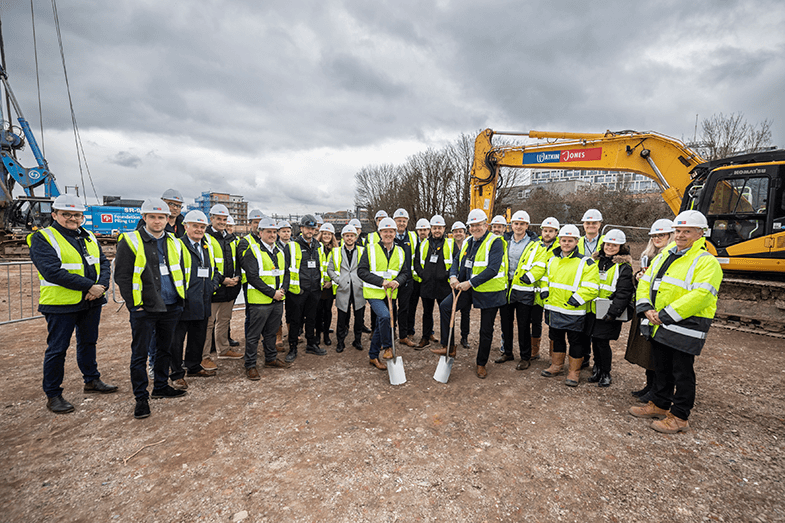 Consisting of a mix of studio, one, two and three bed apartments, this substantial BTR development, which will be the largest in Wales, will include a concierge, lobby, gym, plus gardens and terraces. The development will also feature a public square facing onto the River Taff, in addition to over 19,500 sq. ft of leisure and retail space.
This development will support both Watkin Jones and Legal & General's ambitions and commitments to ESG. Furthermore, BREAAM and Home Quality Mark accreditations will be adhered to, in addition to roof-mounted photovoltaic panels and hot water generation provided by highly energy efficient air source heat pumps, demonstrating our commitment to creating the future of living and homes that are truly sustainable.
The £200 million investment will help to catalyse the wider Central Quay regeneration and help support the ongoing demand for rental housing in Cardiff. Central Quay is Legal & General's third transaction in the last 24 months with Watkin Jones, and the largest one to date, helping to build on our expertise in delivering sustainable homes in key regeneration locations.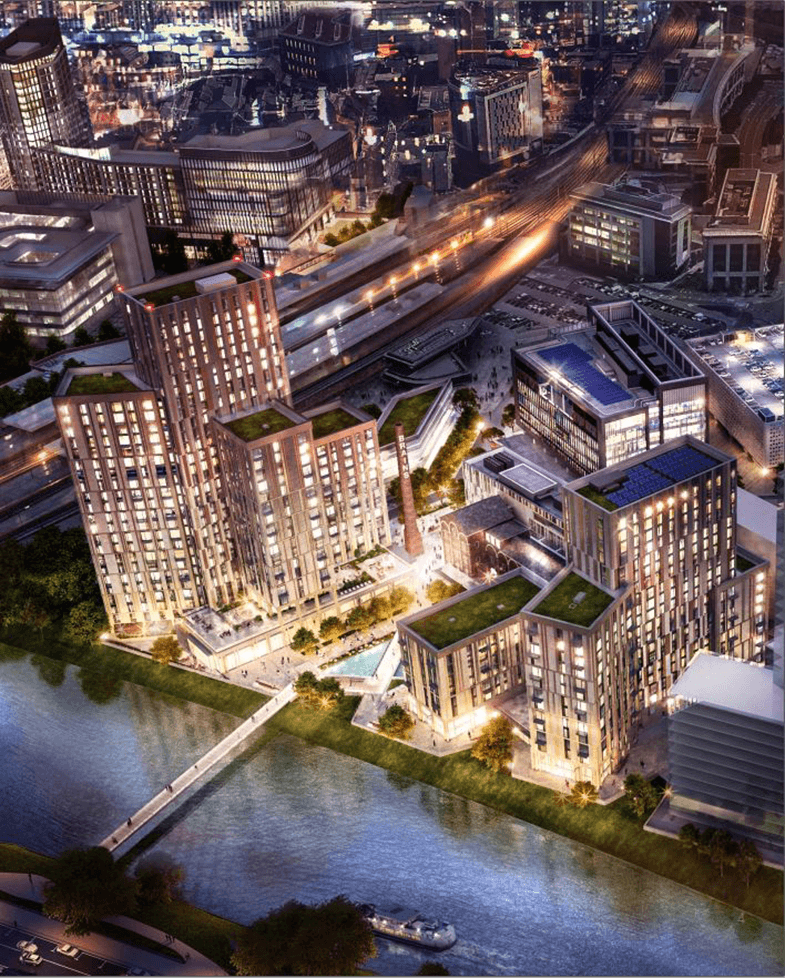 Alex Pease, Chief Investment Officer, Watkin Jones, said: "We are proud to have broken ground at Cardiff Quay, home to the former Brains Brewery.
"This regeneration of a strategic site in the heart of Cardiff will deliver high quality sustainably constructed BTR homes, which also helps meet the ever-increasing housing demand in the area. With best-in-class amenities for residents, this sustainable development will breathe renewed life into this prime location. Building upon recent transactions, we are looking forward to developing this on behalf of Legal & General."
Mike Powell, Head of Transactions, BTR, at LGIM Real Assets, commented: "We are delighted to see spades in the ground at Central Quay, delivering a unique offer of city centre living on the waterfront.
"Marking £1bn of real assets investment into Cardiff, we are proud to have played our part in the city becoming one of the UK's leading locations to live, work and play. The provision of a further 715 build-to-rent apartments will facilitate this trajectory of growth with much needed new homes and build on the long-standing role Legal & General has played in Cardiff's regeneration."
- Ends -
For further information:
Watkin Jones plc
Via Buchanan Communications
Buchanan
Henry Harrison-Topham / Jamie Hooper
Tel: +44 (0) 20 7466 5000
watkinjones@buchanan.uk.com
www.buchanan.uk.com
NOTES TO EDITORS
About Watkin Jones
Watkin Jones is the UK's leading developer and manager of residential for rent, with a focus on the Build to Rent and student accommodation sectors. The Group has strong relationships with institutional investors, and a reputation for successful, on-time-delivery of high-quality developments. Since 1999, Watkin Jones has delivered 41,000 student beds across 123 sites, making it a key player and leader in the UK purpose-built student accommodation market. In addition, the Fresh Property Group, the Group's specialist accommodation management company, manages nearly 18,000 student beds and Build to Rent apartments on behalf of its institutional clients. Watkin Jones has also been responsible for over 80 residential developments, ranging from starter homes to executive housing and apartments.  The Group is increasingly expanding its operations into the Build to Rent sector.
The Group's competitive advantage lies in its experienced management team and business model, which enables it to offer an end-to-end solution for investors, delivered entirely in-house with minimal reliance on third parties, across the entire life cycle of an asset. Watkin Jones was admitted to trading on AIM in March 2016 with the ticker WJG.L.  For additional information please visit www.watkinjonesplc.com
About LGIM Real Assets
LGIM is one of Europe's largest institutional asset managers and a major global investor. LGIM manages £1.3 trillion* in assets, working with a range of global clients, including pension schemes, sovereign wealth funds, fund distributors and retail investors.
LGIM Real Assets has assets under management of £39 billion* and is one of the largest private markets investment managers in the UK. Investing in both debt and equity and across the risk/return spectrum, LGIM Real Assets actively invests in and manages assets across commercial, operational, and residential property sectors, as well as infrastructure, real estate, corporate and alternative debt. Taking a long-term view to future proof our investments, LGIM Real Assets continues to lead the industry in ESG performance, considering all environmental, social and governance issues at asset level as well as portfolio level.
LGIM's Build to Rent platform now has 20 sites in 13 cities nationwide, with more than 3,000 apartments occupied and nearly 5,000 more in development.
* at 30 June 2022