Watkin Jones, the UK's leading developer and manager of residential for rent homes, in partnership with Lacuna Developments, and contractor, Graham has commenced work on the first Build to Rent ('BTR') scheme in Northern Ireland, at The Loft Lines Titanic Quarter in Belfast.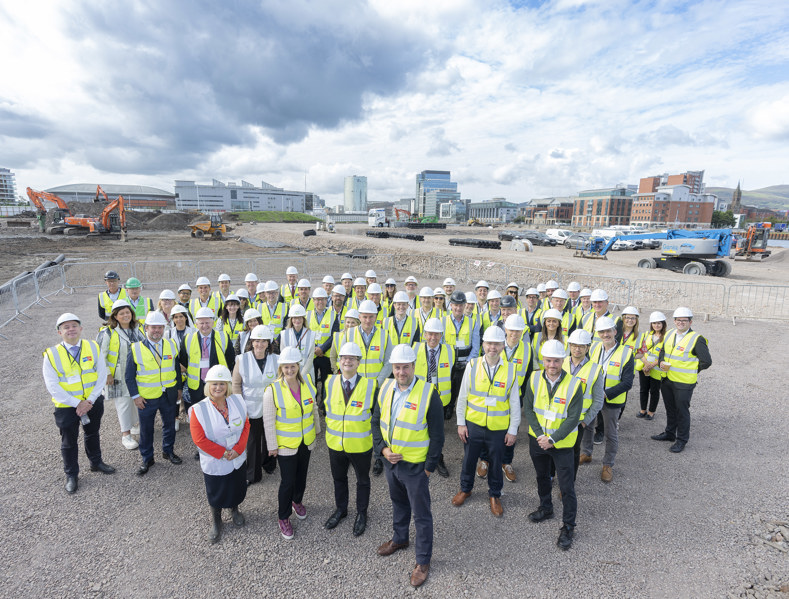 The site is forward funded by Legal & General, one of the UK's leading financial services groups and a major global investor. In addition, it will deliver social homes for Clanmil Housing Association. Yesterday a breaking ground ceremony, attended by representatives from Belfast City Council celebrated the progress made on this iconic site to transform it into a new urban riverside residential community.
Creating 778 new homes, The Loft Lines will comprise 627 BTR homes and 151 affordable homes. On completion the development will appeal to a range of people including families and young professionals, who can choose from a range of housing sizes; from studios to three-bedroom apartments. The Loft Lines will include lounges, sports and recreational spaces, cinema rooms and children's play areas. The development design also has a 'resident first' approach; prioritising pedestrians and cyclists over the use of cars, supporting the city's aim to reduce its carbon footprint and creates a great surrounding for residents. A further sustainable feature includes the use of air source heat pumps.
The Loft Lines will help to further catalyse the regeneration of Queens Island, on a site that was previously part of the world-famous Harland and Wolff shipbuilding company. As well as transforming the current brownfield site, the project is also contributing to the development of Belfast's flourishing city centre, bringing attractive residential homes to the area, and providing a significant boost to the local economy.
George Dyer, Group Investment Director, Watkin Jones, said: "Watkin Jones has a strong track record of developing large regeneration sites and we are delighted to bring the first BTR scheme to the city of Belfast. Titanic Quarter is developing an area that is steeped in rich history, transforming this brownfield site into a thriving place to live and acting as a catalyst for wider regeneration.
"The development is being brought to fruition by a partnership approach between all stakeholders and funders and we are grateful for the genuine collaboration we have experienced with our partners. This event demonstrates the progress the teams are making for the city of Belfast."
John Godfrey, Director of Levelling up, Legal & General, said: "It is widely accepted that greater investment in our regional towns and cities, particularly to deliver new homes, is needed. As our first scheme in Northern Ireland, this is an important and significant step. We strongly believe in the power of pensions capital and the role it plays in accelerating investment-led economic growth, and unlocking much-needed regeneration in all parts of the UK. We hope The Loft Lines scheme will do just that for the regeneration of the Titanic Quarter, the local economy, and broader community of Belfast; we're delighted to mark the start of its journey."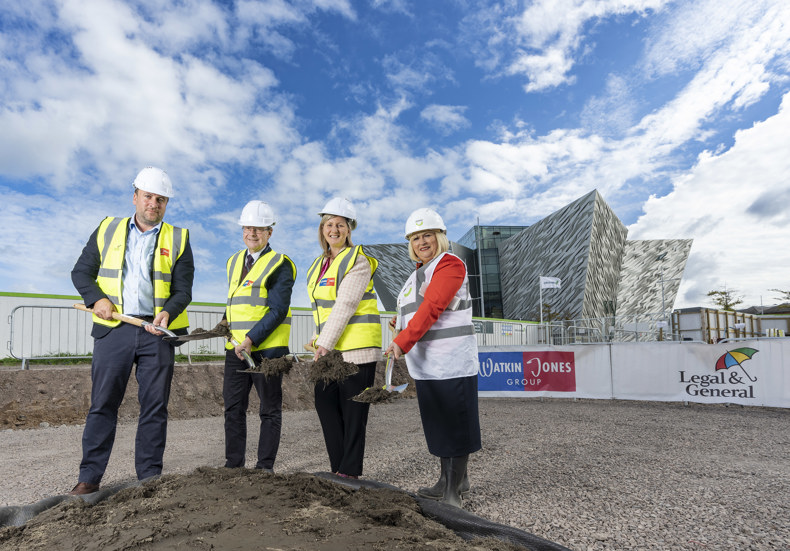 Carol McTaggart, Group Chief Executive, Clanmil Housing, said: "At Clanmil we provide homes for people to live well, and we are delighted to be part of The Loft Lines, bringing 81 new social rented homes to Titanic Quarter for people who need them.
"Northern Ireland is in the midst of a housing crisis with the highest waiting lists for over a decade. These new social homes, delivered with support from the Department of Communities and NIHE, will help address this growing need, whilst also supporting Northern Ireland's construction industry and helping to boost our economy.
We look forward to welcoming residents who will be able to enjoy all the benefits of city centre living within a vibrant new waterfront community."
Anthony Best, Managing Director, Lacuna Developments, said: "Lacuna Developments has been very active in Belfast over the last seven years developing residential led schemes. It is fantastic for Lacuna, alongside our development partners, to see Graham on site bringing this development to life. We are also leading the way in bringing forward another first for the city in BTR, social and affordable housing at The Loft Lines. Along with public realm, retail for the wider TQ community and a creche which the scheme will deliver, it is hugely exciting to be involved in the event."
Grainia Long, Chief Executive of Northern Ireland Housing Executive, said: "We are delighted to see the first step in the innovative Loft Lines development which is further progress in ensuring that local people in Belfast have access to affordable housing. We have engaged with both Belfast Harbour and the developer of The Loft Lines from early stages of the development proposals.
"Through the planning process, approximately 10% of the properties of the development have been secured as social rented homes. In practice this means 81 much-needed homes for a range of households, which will be delivered by Clanmil Housing.
"In effect, this development is helping to build stronger communities for local people. The Belfast Agenda sets an ambitious target to increase the number of homes available in Belfast City Centre. It is hugely positive to see affordable housing being delivered as part of a mixed use, mixed tenure regeneration project of such strategic significance for the city."
- Ends -
Media enquiries:
Buchanan (Watkin Jones)
Henry Harrison-Topham / Abby Gilchrist
watkinjones@buchanan.uk.com
Tel: +44 (0) 20 7466 5000
Notes to Editors
Watkin Jones is the UK's leading developer and manager of residential for rent, with a focus on the build to rent, student accommodation and affordable housing sectors. The Group has strong relationships with institutional investors, and a reputation for successful, on-time-delivery of high-quality developments. Since 1999, Watkin Jones has delivered 48,000 student beds across 143 sites, making it a key player and leader in the UK purpose-built student accommodation market, and is increasingly expanding its operations into the build to rent sector. In addition, Fresh, the Group's specialist accommodation management business, manages over 22,000 student beds and build to rent apartments on behalf of its institutional clients. Watkin Jones has also been responsible for over 80 residential developments, ranging from starter homes to executive housing and apartments.
The Group's competitive advantage lies in its experienced management team and capital-light business model, which enables it to offer an end-to-end solution for investors, delivered entirely in-house with minimal reliance on third parties, across the entire life cycle of an asset.
Watkin Jones was admitted to trading on AIM in March 2016 with the ticker WJG.L. For additional information please visit www.watkinjonesplc.com