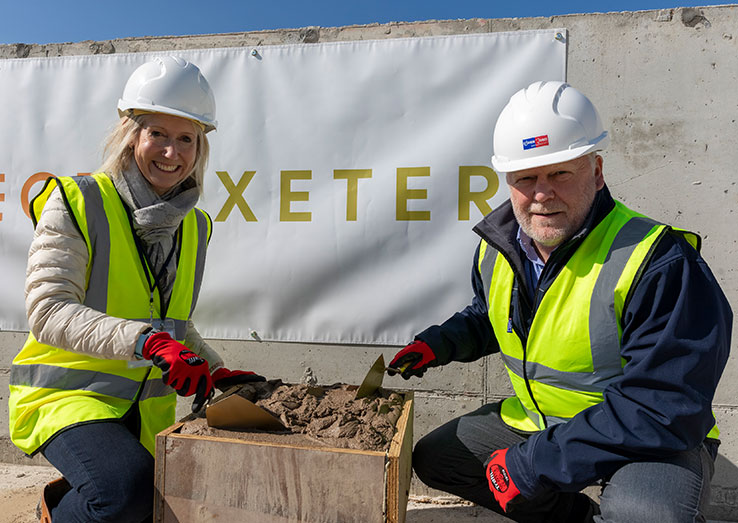 Completion of building's structure
Watkin Jones, the UK's leading developer and manager of residential for rent, announces that earlier this week the 'topping out' ceremony of its PBSA scheme, Ty Nant in Swansea, took place.
The commemorative event now signals the completion of the concrete frame and was celebrated at the top of the building with the layering of the last remaining cement. Watkin Jones colleagues were joined by subcontractors, and representatives from Swansea University, along with Fresh, who will be managing the PBSA scheme in the city on behalf of the client, EQT Exeter to celebrate this achievement.
The scheme is being forward funded by EQT Exeter as part of a wider portfolio of funding, representing Watkin Jones' first transaction with them. This is Watkin Jones' second PBSA scheme in the city, following the successful delivery of the nearby 967-bed St David's scheme.
Swansea, the second largest city in Wales, is a growing destination of choice for students and this scheme is important in providing high-quality homes to satisfy the growing demand for student accommodation in the city.
Once complete, the 370-bed scheme will include a mixture of cluster flats and studios for students to rent. Sustainably designed, the scheme will achieve BREEAM 'excellent' rating with air source heat pumps to support renewable energy efforts incorporated into the construction.
With attractive landscaping that will support and encourage local biodiversity, residents will enjoy outdoor communal amenity space, including a courtyard and a roof terrace.
The scheme has good transport links to the University campuses, and is conveniently located close to Swansea train station and within easy walking distance of the city.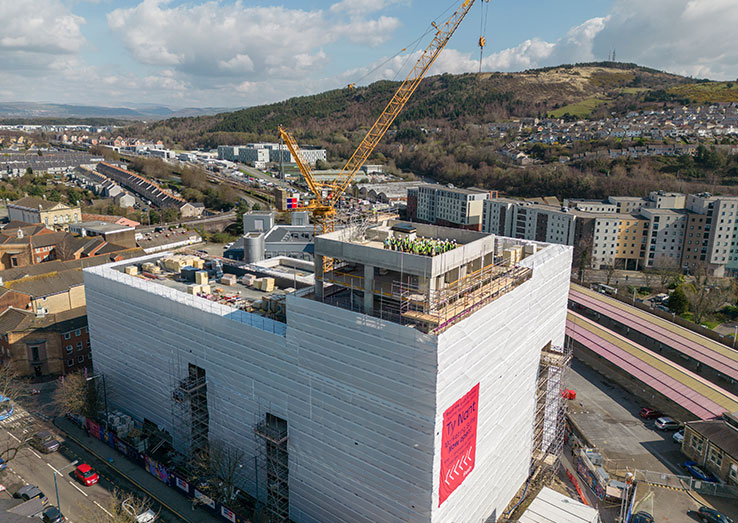 Alex Pease, Chief Investment Officer, Watkin Jones, said: "As rising demand for PBSA accommodation across Swansea continues, this is a great example of Watkin Jones creating the future of living, with sustainable and high-quality student homes.
"This scheme will offer students a great living experience in the city and will help to free-up much needed family homes, as student numbers in Swansea continue to grow. We are pleased to be continuing our partnership with EQT Exeter to develop high quality accommodation for future generations of students in the city, and this is a welcome addition to Fresh's operational portfolio who will be managing this scheme."
Russell Petrie, Head of Student Housing, EQT Exeter, said: "We are extremely pleased to hit this key construction milestone ahead of opening to students in September 2023 and commend Watkin Jones on the progress and build-quality achieved to date. Ty Nant sets a new standard for student accommodation in Swansea, and we look forward to continuing our relationship with Watkin Jones on future projects."
- Ends -
Media enquiries:
Buchanan (Watkin Jones)
Henry Harrison-Topham / Jamie Hooper
Tel: +44 (0) 20 7466 5000
watkinjones@buchanan.uk.com
www.buchanan.uk.com
About Watkin Jones
Watkin Jones is the UK's leading developer and manager of residential for rent, with a focus on the Build to Rent and student accommodation sectors. The Group has strong relationships with institutional investors, and a reputation for successful, on-time-delivery of high-quality developments. Since 1999, Watkin Jones has delivered 41,000 student beds across 123 sites, making it a key player and leader in the UK purpose-built student accommodation market. In addition, the Fresh Property Group, the Group's specialist accommodation management company, manages nearly 18,000 student beds and Build to Rent apartments on behalf of its institutional clients. Watkin Jones has also been responsible for over 80 residential developments, ranging from starter homes to executive housing and apartments. The Group is increasingly expanding its operations into the Build to Rent sector.
The Group's competitive advantage lies in its experienced management team and business model, which enables it to offer an end-to-end solution for investors, delivered entirely in-house with minimal reliance on third parties, across the entire life cycle of an asset. Watkin Jones was admitted to trading on AIM in March 2016 with the ticker WJG.L. For additional information please visit www.watkinjonesplc.com