Watkin Jones, the UK's leading developer and manager of residential for rent, in partnership with Lacuna Developments, announces that it has exchanged contracts with L&G and Clanmil Housing Association to forward fund the new urban residential community, Loft Lines, at Titanic Quarter in Belfast.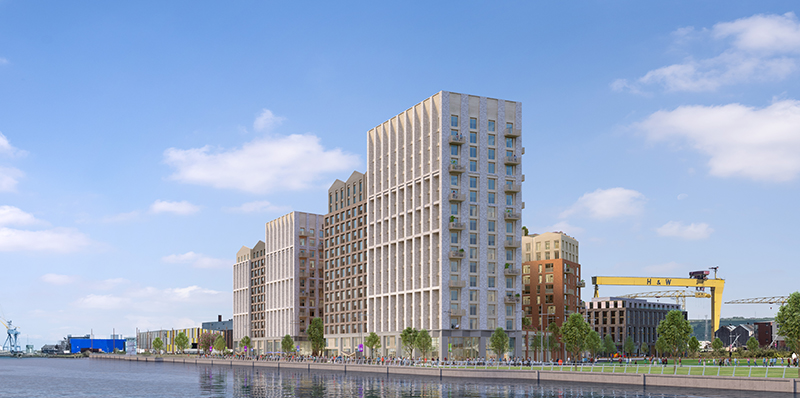 The agreed fundings amounting to c.£155 million of a wider c.£175 million development and represents the first BTR scheme in Northern Ireland, alongside the first mixed tenure affordable housing scheme, and will create 778 new waterfront homes. Titanic Quarter was previously home to world leaders in innovative engineering and was a hub for the renowned shipbuilding company, Harland and Wolff. Transforming the current brownfield site into a vibrant new community, Loft Lines will create 778 homes; comprising 627 Build to Rent ('BTR') units and 151 affordable homes.
The Loft Lines will be a brand-new urban riverside community built on Queen's Island, in the centre of Titanic Quarter, Belfast. The development will help to further catalyse the regeneration of Queens Island, alongside helping to transform Belfast city centre living, bringing attractive residential homes to the area for the first time and a significant boost to the local economy.
On completion, the development will appeal to a range of people including families and young professionals, who will benefit from a range of housing sizes, from studios to three bed apartments, offering a best-in-class resident experience. Loft Lines will include lounges, sports and recreational spaces, gyms, flexible working space, private dining spaces, games rooms, cinema rooms and children's play areas. The BTR scheme is surrounded by an urban woodland with parks and walkways and is helping to support the Group's strong ESG credentials, incorporating air source heat pumps and other energy saving capabilities. The development design has a 'resident first' approach; prioritising pedestrians and cyclists over the use of cars, supporting the city's aim to reduce its carbon footprint.
A short walk into Belfast city centre, the development is within easy distance of the fantastic amenities and leisure Belfast has to offer as well as supporting the CBD and wider commercial areas. It has good access to railway links to Dublin and Belfast City airport which is less than three miles away.
Alex Pease, Chief Investment Officer, Watkin Jones, said: "We are delighted to have secured institutional investment from both L&G and Clanmil Housing Association for this landmark scheme in Belfast's iconic Titanic Quarter. This is further evidence of the attractive investment and operational fundamentals of both BTR as a sector and Belfast as a city and a good sign of capital markets re-opening.
"Watkin Jones has a strong track record of developing large regeneration sites and we are delighted to bring the first BTR scheme to the city of Belfast. Titanic Quarter will develop an area that is steeped in rich history, transforming this brownfield site into a thriving place to live and acting as a catalyst for wider regeneration. We are very pleased to continue investing to support Belfast's ambitions. The development is being brought to fruition by a true partnership approach between all stakeholders and funders and we are grateful for the genuine collaboration we have experienced with our partners. The scheme offers excellent employment opportunities with growth across many industries in the city. Belfast offers a wide range of shops, bars, and restaurants along with a thriving arts and music scene, making it a truly fantastic place to both work and live."
Mike Powell, Head of BTR Transactions, LGIM Real Assets said: "We are proud to be making the largest ever private sector investment into housing in Northern Ireland. A long-term investment that will allow for the continued regeneration of the Titanic Quarter and crucially support the growing housing demands of the city."
Anthony Best, Managing Director, Lacuna Developments, said: "This is another significant step forward for city centre living in Belfast.  For Lacuna to be involved in the first purpose-built student accommodation scheme in 2015 and now the first mixed tenure housing scheme in the city centre is very pleasing and shows our company's commitment to Belfast our home city.  Loft lines will deliver Build to Rent, affordable and social housing as well large amounts of public realm and major green travel measures.
"The ambitions for Belfast city centre are huge but to be involved in Loft Lines which will support the growth planned under the Belfast Agenda is fantastic.  The partnership approach by all stakeholders, Belfast City Council and L&G has been great to be part of and required a huge amount of work by all to reach this stage.  We look forward starting the project with Grahams very shortly in what will be a three-year project and will be a game changing regeneration scheme for Titanic Quarter and the wider city.  
Joe O'Neill, Chief Executive, Belfast Harbour, said: "We are pleased to see the continued positive progress of the 'Loft Lines' development working in partnership with Watkin Jones and Legal and General, supporting our ambition to develop an iconic waterfront for the City.  The addition of Build to Rent and social/affordable residential with supporting commercial use and leisure activities will create an urban community on the water with the highest quality outdoor space and indoor accommodation."
James Eyre, Commercial Director, Titanic Quarter Ltd, said: "It is very exciting to see The Loft Lines progress to construction phase, delivering Belfast's first major build to rent, social and affordable residential project in Titanic Quarter. We are delighted to be working in partnership with Lacuna, Watkin Jones, Legal and General and Clanmil, playing our part in bringing the project to fruition. The Loft Lines is a super component of the continuing mixed-use regeneration of Titanic Quarter and supports Belfast's growth ambitions set out in the Belfast Agenda."
- Ends -
Media enquiries:
Buchanan (Watkin Jones)
Henry Harrison-Topham / Jamie Hooper
watkinjones@buchanan.uk.com
Tel: +44 (0) 20 7466 5000
www.buchanan.uk.com
Notes to Editors
Watkin Jones is the UK's leading developer and manager of residential for rent, with a focus on the build to rent, student accommodation and affordable housing sectors. The Group has strong relationships with institutional investors, and a reputation for successful, on-time-delivery of high-quality developments.  Since 1999, Watkin Jones has delivered 48,000 student beds across 143 sites, making it a key player and leader in the UK purpose-built student accommodation market, and is increasingly expanding its operations into the build to rent sector.  In addition, Fresh, the Group's specialist accommodation management business, manages over 22,000 student beds and build to rent apartments on behalf of its institutional clients.  Watkin Jones has also been responsible for over 80 residential developments, ranging from starter homes to executive housing and apartments.
The Group's competitive advantage lies in its experienced management team and capital-light business model, which enables it to offer an end-to-end solution for investors, delivered entirely in-house with minimal reliance on third parties, across the entire life cycle of an asset.
Watkin Jones was admitted to trading on AIM in March 2016 with the ticker WJG.L.  For additional information please visit www.watkinjonesplc.com
About Legal & General
Established in 1836, Legal & General is one of the UK's leading financial services groups and a major global investor, with over £1.2 trillion in total assets under management* of which a third is international. We also provide powerful asset origination capabilities. Together, these underpin our leading retirement and protection solutions: we are a leading international player in pension risk transfer, in UK and US life insurance, and in UK workplace pensions and retirement income. Through inclusive capitalism, we aim to build a better society by investing in long-term assets that benefit everyone. *at 31 Dec 2022.
About Legal & General Investment Management Real Assets (LGIMRA): 
LGIMRA is a division of Legal & General Investment Management (LGIM), one of Europe's largest institutional asset managers and a major global investor. LGIM manages £1.2 trillion in assets*, working with a range of global clients, including pension schemes, sovereign wealth funds, fund distributors and retail investors.
LGIM Real Assets has assets under management of £34.4 billion* and is one of the largest private markets investment managers in the UK. Investing in both debt and equity and across the risk/return spectrum, LGIM Real Assets actively invests in and manages assets across commercial, operational and residential property sectors, as well as infrastructure, real estate, corporate and alternative debt. 
Taking a long-term view to future proof our investments, LGIM Real Assets continues to lead the industry in ESG performance, considering all environmental, social and governance issues at asset level as well as portfolio level. In 2021, we are implementing a strategy as part of our commitment to net zero carbon emissions across the real estate equity business by 2050 and have also committed to measuring social value across 20% of our platform by the end of the year. * At 31 December 2022
Lacuna Developments is one of Northern Ireland's leading development and investment companies. Established in 1991, Lacuna is a family run company. It was originally established by David Best and is now run by his son Anthony.
Lacuna has grown steadily over the last two decades to become involved in property development and investment throughout the UK. Lacuna has experience in a wide range of property markets including private housing, student accommodation, high street retail and offices.
Lacuna has currently 1000 residential units either under construction or in for planning in Belfast. It also has several mixed-use schemes in the pipeline which will start on site in the next two years. The company continues to grow and look for further opportunities.
Belfast Harbour is the region's primary gateway for trade, services and tourism, handling more than two thirds of the imports and exports that come into and out of Northern Ireland by sea.
We are committed to developing a world leading regional Port, utilising leading edge technology and sustainable energy solutions to unlock new levels of safety, productivity and profitability for everyone.
Covering an area of 2,000 acres, representing 20% of Belfast City area, the Harbour Estate is home to high-quality commercial and residential real estate, and a diverse community of businesses in sectors such as financial and IT services, R&D, film production, engineering, and aerospace manufacturing, employing more than 27,000 people.
A major contributor to the economy in Northern Ireland, Belfast Harbour Commissioners has played a key role in the development and progress of the city since its inception in 1847. A significant programme of strategic investments over the last decade continues to create jobs, stimulate growth and aid the region's socio-economic recovery, with more than £254m of ongoing investment committed to the development of Port and Estate infrastructure up to 2023.As a Trust Port, we reinvest our profits into port future-proofing projects, world class developments and public space, helping to create a gateway to opportunity for local communities and businesses and for future generations.
Titanic Quarter Ltd officially launched its master plan in 2005. Since then, the development has come to life with major commercial, tourism, residential and education schemes, re-energising Belfast's waterfront and former shipbuilding lands.
Rooted in Belfast's heritage, Titanic Quarter is a natural expansion and consolidation of the city. We are working to blend into existing communities through sympathetic planning and an access strategy that delivers new physical routes and cohesive urban inclusion.
The team delivering this vision for Belfast provide a wide range of local and international development experience, as well as other business and community interests.