Watkin Jones, the UK's leading developer and manager of residential for rent, is pleased to announce that the Group has practically completed on a 133-bed BTR Co-Living housing scheme on Gladstone Road, in Exeter. This forward-funded scheme was sold to Ropemaker Properties Limited and will be managed by Watkin Jones' residential for rent manager, Fresh.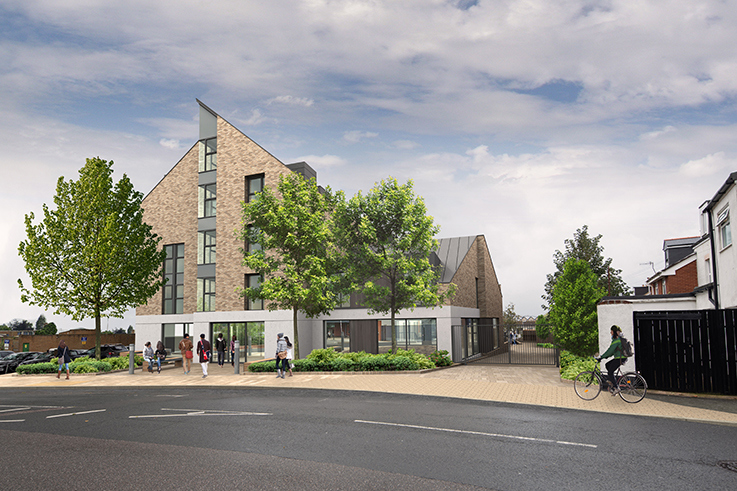 Construction on the former ambulance station has now completed and the scheme offers 133 studio homes and is ready for residents to move into now. As a scheme which places an emphasis on community living, resident amenities include a gym, laundry facilities, co-working space, a shared co-living kitchen, cinema room, TV lounge, external courtyard and a games area. Additionally, the development includes a large amount of indoor and outdoor bicycle storage, promoting sustainable transport across the city.
Supporting Watkin Jones' ESG strategy, this development incorporates cutting edge technology and engineering to target reduced emissions, and help achieve the Group's sustainability objectives, achieving a BREEAM "Very Good" rating. The implementation of air source heat pumps for the central heating and hot water system substantially reduces the carbon footprint of the site.
Gladstone Road is the perfect rental option for young professionals, with quick walking and easy bus access to the city centre, as well as local independent shops of Magdalen Road. The scheme is close to the city's hospitals and received backing from the local NHS ambulance trust to potentially offer homes for NHS staff.
Richard Harris, Group Delivery, Managing Director Watkin Jones, said: "We are thrilled to practically complete Gladstone Road and hand this scheme over to our client, Ropemaker Properties Limited. Residents can move in now, and we are proud to deliver high quality homes that encourage an inclusive community environment. This is a great development that brings sustainable and affordable homes to Exeter."
- Ends -
Media enquiries:
Buchanan (Watkin Jones)
Henry Harrison-Topham / Jamie Hooper
watkinjones@buchanan.uk.com
Tel: +44 (0) 20 7466 5000
Notes to Editors
Watkin Jones is the UK's leading developer and manager of residential for rent, with a focus on the build to rent, student accommodation and affordable housing sectors. The Group has strong relationships with institutional investors, and a reputation for successful, on-time-delivery of high-quality developments. Since 1999, Watkin Jones has delivered 48,000 student beds across 143 sites, making it a key player and leader in the UK purpose-built student accommodation market, and is increasingly expanding its operations into the build to rent sector. In addition, Fresh, the Group's specialist accommodation management business, manages over 22,000 student beds and build to rent apartments on behalf of its institutional clients. Watkin Jones has also been responsible for over 80 residential developments, ranging from starter homes to executive housing and apartments.
The Group's competitive advantage lies in its experienced management team and capital-light business model, which enables it to offer an end-to-end solution for investors, delivered entirely in-house with minimal reliance on third parties, across the entire life cycle of an asset.
Watkin Jones was admitted to trading on AIM in March 2016 with the ticker WJG.L. For additional information please visit www.watkinjonesplc.com