Watkin Jones is very proud to have signed the Armed Forces Covenant, underlining our commitment to the people who serve the country and our respect for the skills they bring.
Former servicemen and women who work at Watkin Jones and representatives from across the business joined our Chief Executive Richard Simpson, who is a former army officer, and the Ministry of Defence's representative Lt. Col. Keith Gregory, Commanding Officer 106th Regiment Royal Artillery, to witness the signing of the Armed Forces Covenant.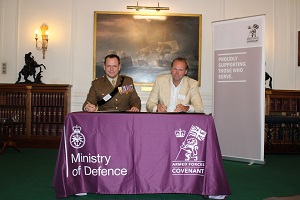 Alongside the signing of the covenant pledge, we launched VETS – our Veteran Education and Training Scheme – to recruit, train and support ex-service personnel. Jackie Kelly, our HR Director is working with a specialist organisation First Military Recruitment to identify the first group of people to join and there has already been a lot of interest.
In the first year the pilot of VETS will give ten service leavers a twelve-month contract in roles such as assistant site managers, but importantly alongside this there will be mentors and other support to ensure successful transitions. Once we've shown the model works, we expect to scale it up and apply it to other areas of our recruitment.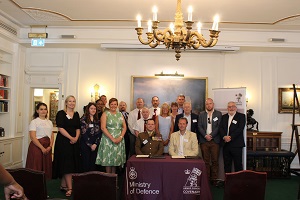 If you are a service leaver interested in VETS – please contact First Military Recruitment.
We're excited about this initiative as it something that will really make a difference, and this activity feeds into a key plank of our Sustainability strategy which is all about creating diversity and inclusion which helps to keep Watkin Jones Group a great place to work.