Second deal between DWS and Watkin Jones will see 316 sustainably designed BTR homes delivered on a brownfield site within the Bath Riverside regeneration area.
Easy access to the city centre for residents, adding sustainable housing capacity in a UNESCO World Heritage city
Nearly one in three homes will be at a discount market rent increasing affordability for renters in Bath


Watkin Jones, the UK's leading developer and manager of residential for rent homes, and DWS, the global real estate investment manager, have agreed a c.£100 million forward funding deal to deliver 316 new BTR homes on the Lower Bristol Road, Bath.
The scheme will create studios, one, two and three-bed homes across two BTR buildings, 95 of which will be classed as affordable and offer significantly reduced rents. Completion is expected in 2025.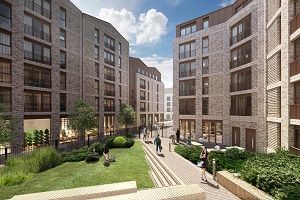 The site, on Lower Bristol Road, will replace a car showroom and is within a 15-minute walk of the centre of Bath, a UNESCO World Heritage Site.  It boasts excellent sustainable transport options including the nearby National Route Four cycling route, local buses, as well as Oldfield Park and Bath Spa rail stations, offering great connectivity to Bristol and other cities. Residents will be encouraged to cycle with over 650 secure bike parking spaces for residents and visitors provided, along with a car club and electric charging points for the parking spaces available.

The scheme will be future proofed by meeting high environmental sustainability standards with the scheme targeting Home Quality Mark Level Three. Meeting the increased desire for outdoor space, residents will be able to enjoy landscaped communal courtyard gardens on the first floor and further biodiversity will be added throughout the scheme, including new trees planted on the frontage to add to the attractiveness of the wider area. 

This is Watkin Jones and DWS' second transaction, following the practical completion of almost 700 PBSA homes at Kelaty House, now Pavilion Court, in Wembley. With this acquisition, DWS approaches almost GBP 2 billion of AUM in the UK and Ireland living sector.
Alex Pease, Chief Investment Officer of Watkin Jones, said: "This agreement builds on our already successful relationship with DWS and will bring long term value to Bath by creating fantastic homes for people to live in. Constrained supply of new homes to rent is a growing challenge for renters, and more investment in creating new rental housing where people can enjoy living and working in Bath is urgently needed to meet demand."

"Our team did a superb job to achieve planning for a highly sustainable scheme in a UNESCO World Heritage city as well as attracting new investment to Bath. We have a growing pipeline and having a track record of successfully creating residential schemes in the city are continuing to look for land opportunities." 
Hugo Vere, Lead Portfolio Manager for the real estate business at DWS, based out of London said, "We look forward to continuing our great partnership with Watkin Jones. Upon completion, Bath Junction will complement the population demographic of the area delivering an attractive, affordable BTR housing scheme to this historic city. As a dominant living sector investor, DWS' presence across UK and Ireland expands to almost 7,500 beds with this latest transaction." He continued: "This marks the first acquisition for a new Pan-European c. €1bn mandate. We will continue to target high quality living sector schemes in key regional cities across Europe as we build out the portfolio." 

The neighbouring PBSA site is also being developed by Watkin Jones and is being forward funded by EQT Exeter as part of a portfolio deal announced in May. Watkin Jones has an excellent track record of delivery in Bath, completing three schemes in the last five years that have added over 250 new places for people to live.