Following International Women's Day, our Chief People Officer Craig Wilcockson reflects on the work needed to create an equal and diverse industry and what Watkin Jones Group is doing to make change a reality.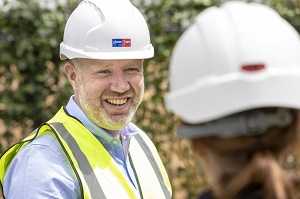 Throughout last week we recognised International Women's Day by raising the visibility of just some of Watkin Jones Group's amazing women whose work is essential to creating the future of living for our clients and residents. 
That visibility matters and promoting women's success across a huge diversity of roles helps to #breakthebias that holds us all back. But I'm not going to pretend that this is anywhere near enough to deliver the change that we want, and real action is needed every day, not just on one day.

As our Chief Executive, Richard Simpson, said recently as part of his challenge to the industry to improve its approach to women's health, its damaging for any business leader not to make attracting half of the population a priority. The lack of women, and other underrepresented groups, in property and construction is nothing to do with talent but speaks to a wider issue that we face as a sector. As a business, and as an industry, we must do better, and I believe that residential for rent as an emerging sub-sector can forge the way with equality built-in from the beginning.

Watkin Jones Group is making progress. Our board is more gender balanced, and our Future Foundations ESG objectives, which we can be held to account on, include a commitment for the business to better reflect society by 2025 and fully reflect society by 2030, as well as driving forward an inclusivity approach supported by recognised accreditations. 
 
We have pressed ahead towards achieving these accreditations and are now working with Women into Construction, with the first women from this scheme joining our sites earlier this year. We have also become a Disability Confident employer and joined Stonewall, reflecting our commitment to equality and diversity across the board.  
 
To further hold ourselves to account, we are developing an Equality, Diversity & Inclusion charter to abide by, alongside an ED&I forum who will guide changes so that they have maximum impact, track progress, as well as help drive and embed our ED&I culture.
 
Doing all this isn't just right from a moral or organisational perspective, reflecting society is the only way for us to create places that truly represent the future of living for the diverse range of people who are Britain's renters.