Belfast City Council has this evening passed a resolution to grant planning permission for proposals to create a new urban community, the Loft Lines, at Titanic Quarter, Belfast. 
The approved plans will bring 778 new waterfront homes to the city and are being brought forward in partnership by Watkin Jones PLC and Lacuna Developments, working in association with Titanic Quarter Limited and Belfast Harbour.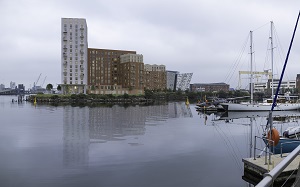 It's anticipated the development will start in late summer 2022 and be fully completed by August 2025, providing a range of Build to Rent, social and affordable apartment homes to Titanic Quarter for the first time. A range of significant public and private amenity spaces will be included for residents and visitors.  The approval represents a landmark decision for Belfast City Council and signals the city's ambitions to invest in mixed tenure city centre living, supporting the delivery of residential targets set by the Belfast Agenda.
The approved development seeks to increase vibrancy and attract greater footfall to this part of Belfast through the inclusion of ground floor uses that boast busy active frontages and a large commitment to public realm, promenade and a one-acre park for city residents and visitors to enjoy within the waterfront design.  A large number of private amenity spaces will be included for residents. Green travel measures and sustainability within the scheme design are also key to support the city's drive towards a reduced carbon footprint.   
Alex Pease, Chief Investment Officer of Watkin Jones, said: "This is an excellent outcome for Belfast, creating new homes, open spaces, and businesses that will accelerate its development as a thriving 24-hour city to rival the best in the world. Transforming this brownfield site into thriving place will act as a catalyst for wider regeneration, and we're very pleased to continue investing to support the people of Belfast's ambitions. Our focus is on creating truly sustainable places that add value for the wider community for decades, so we've bought our skills as a developer of affordable housing to increase the number of affordable homes, supporting the Loft Lines future as a balanced community.
"The Loft Lines shows the potential of institutional investment to bring forward places with long-term value for the people who live in and around them, and we anticipate seeing Belfast as a prime investment destination grow as this scheme progresses."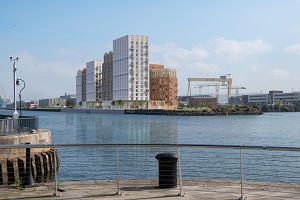 Anthony Best, Director of Lacuna Developments, said: "Belfast City Council's decision to approve the Loft Lines plans is testament to a shared vision by all parties to drive Belfast forward by delivering city-centric homes that give a welcome boost to Belfast's economy in the long-term. The partnership approach with the council on Loft Lines is a huge part of this successful outcome and we look forward to continuing to work with our key stakeholders Belfast Harbour and Titanic Quarter Limited to see these exciting plans move forward later this year." 
A local contractor is expected to be appointed which will help create a significant number of construction jobs for the local economy over a three-year period. 
James Eyre, Commercial Director of Titanic Quarter Ltd, commented: "The approval of the Loft Lines proposal marks an exciting new chapter for Titanic Quarter as it continues to grow as a thriving place to live, work, visit and stay.  We welcome this decision and will continue to support Lacuna Developments and Watkin Jones as they progress the delivery of this exciting development."  
Joe O'Neill, Chief Executive of Belfast Harbour, said: "We are delighted with the council's decision to grant planning permission to build this new residential development, delivering on the potential of this iconic waterfront location. The green light given will no doubt set a precedent for high quality city homes and public realm and help attract future inward investment to Belfast."
Designed by Todd architects, the new homes will include a range of housing types, including one, two or three-bed homes, and studio apartments. For further information on the development, visit www.theloftlines.com. 
Sheila Murphy, Director at project planning consultancy Turley said: "We are delighted to have secured planning permission for this major initiative on Queen's Island. It's increasingly recognised the need for sustainable city homes and this development will pave the way towards increasing this housing provision, while also establishing a vibrant new community."