All this week we're celebrating International Women's Day, which is a global event shining a light on the social, economic, cultural and political achievements of women. 

One of its goals is to identify, celebrate and increase visibility of women's achievements to help forge equality, so this week we will celebrate just some of Watkin Jones Group's female talent.
First up is Eve Ladden-Timbers, a director in our Planning team who is responsible for projects across the whole of the UK, working with communities and local authorities to create new homes and places.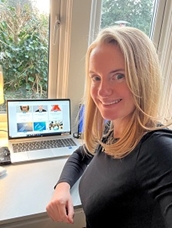 What does your average day look like?

No two days are the same. Each development is unique and is at a different stage in the development process.  A lot of my job is balancing what different people want and need from a development, so I'll be collating community feedback on a project, taking into account resident insight from our management teams at Fresh, liaising with architects, engaging with a local authority planners, and working with construction teams. There are always opinions! But the most important thing is to keep focussed on what is going to create the best place for people to live. 

What's amazing about your job?

I have a passion for delivering good quality, sustainable housing, believing strongly that everyone should have access to a safe, energy efficient home. Being a town planner provides the opportunity to set the paraments for a project at the early stages and help shape the direction in which a project might go. Getting to talk to different people about what they want from a development in their community and then trying to get as much of that into a scheme as possible is one of my favourite parts of the job. Contrary to popular opinion, most planners and developers want to build places that people really like and that add value to a community. 

Why should women go into planning as a career?

In order to flourish, the property industry must have a diverse range of perspectives, with greater visibility of diversity seen at all levels of the profession. Planning is a part of the construction and property industry that has made really good progress in increasing diversity, but we still have a long way to go to be a truly balanced profession.