Its day three of our International Women's Day series, raising the profile of women throughout our company and breaking the bias.
Today we're meeting Emma Wright, Legal Counsel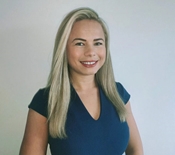 What does your average day look like?
One of the great things about working in-house is that no day is ever the same but to give an example of a typical day:
- I kick off the day with a video meeting to discuss current and pipeline projects with the delivery team;
- I review my emails and prepare legal advice to ad-hoc legal queries;
- I spend the main part of my day drafting and negotiating construction contracts for build-to-rent and purpose-built student accommodation schemes;
- In the afternoon I engage in a progress meeting with the investment team followed by an all-parties meeting with the purchaser / funder and their lawyers to discuss a Development and Funding Agreement.

What's amazing about your job?

The best part of my job is collaborating with various teams across the business to deliver exciting new developments that can make a real difference to communities. It is rewarding to see a building come to life and know that you played a small part in creating new high-quality homes for people to enjoy.

Why should women go into construction law as a career?

Construction law is an interesting and fulfilling area of law and unlike many areas of law your practice can be both contentious and transactional, making the work exciting and varied. By specialising in this area you can create an output with longevity and a broader purpose. It is fantastic to see more and more women choosing a career in construction.