To #breakthebias and raise the visibility of women throughout Watkin Jones Group, we've asked just a few of our amazing women to tell us more about their roles.
Today its Katy Lewis, a Head of Customer Experience from our specialist accommodation management company, Fresh.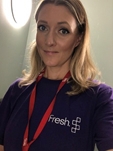 What I love about my role as Head of Customer Experience is that no two days are the same!

I am mostly on the road visiting our fantastic residents' teams working with them to see how we can make their property the best it can be for our residents. Aside from this, I enjoy working with our new business team to give insight into new cities and properties to target, maintaining a healthy budget per property, linking in with our institutional partners and monitoring key market trends which would affect PBSA, BTR and Co-Living.

I have regular meetings with our key clients to update them on the performance of their properties under our management and ensuring our residents' teams feel engaged and prepared for the months ahead.

I also really value linking in with our partners in Watkin Jones to look at new properties in the pipeline and how Fresh can work alongside WJ to shape the future of living, it's great to see the feedback from our current residents being fed back into new WJ builds in the pipeline and ensures that as a business we continue to be forward thinking.


What's amazing about your job?

When I joined Fresh as an Accommodation Manager in Swansea over 8 years ago, I felt empowered by the many senior female role models within the business and am so very thankful that as I progressed through the business I did so without any fear and knew that my opinion was valued.

I love working closely with our fantastic Residents' teams in the South West and seeing how they go above and beyond every single day to ensure our residents have the best service within our properties.

Over the last 12 months, a key focus of my role has been and continues to be implementing our Be Wellbeing programme with our fantastic Be Champions (select residents team members) and Be Ambassadors (residents within our properties) which has been an absolute joy. I have loved seeing how each and every one of our residents' teams have really embraced the programme and how the programme has really helped our residents during such difficult lock down restrictions. It was fantastic for us to receive the National Student Housing Survey award for this in both the UK & Ireland! There is so much going on behind the scenes to make this programme even bigger and better which we look forward to sharing with you all.


Why should women go into accommodation management as a career?

The PBSA market isn't something I initially targeted but what a joy it has been, I have genuinely enjoyed every step of the journey and every role held within Fresh and the WG Group.
If you are after a challenge, have desire and aspiration, then don't hold yourself back and take the plunge. Be part of our amazing team and have a positive impact on the future of living, I would definitely recommend joining Fresh & Watkin Jones Group.