"We are pleased to announce this c. £31.65M investment to deliver 184 high quality, purpose built rental homes in Leicester on behalf of the Catella European Residential Fund III (CER III). This transaction marks CER III's long term plan to roll out a wider strategy of investing in high quality developments in first class locations across the UK with Catella APAM acting as investment and asset manager."

Hugh McAleer

APAM
Watkin Jones, the UK's leading developer and manager of residential for rent homes, with a focus on the build to rent (BtR), co-living and student accommodation (PBSA) sectors, is pleased to announce exchange of contracts for the sale of the Arches, a 184-unit BtR scheme on Bath Lane in Leicester. The scheme is being sold on a forward commitment basis to Catella APAM for c. £31.65m.

The Arches will set a new benchmark for residential for rent accommodation in Leicester and will comprise 52 two-bed and 101 one-bed apartments, as well as 31 studios. Residents of the scheme will enjoy easy access to both the riverside and leisure and amenities of Leicester city centre. They will also have the benefit of a communal garden, co-working space, cinema room, gym, two lounges, cycle storage and car parking with electric charging points available. The scheme is being delivered in-house by Watkin Jones and is due to complete later in the year. Information for interested residents will be released shortly.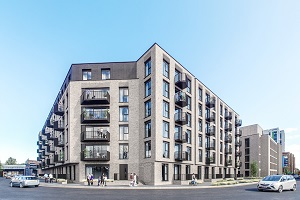 The Arches joins a collection of Watkin Jones' created schemes in the riverside area of Leicester and follows the announcement last month of the sale of the nearby The Tannery student accommodation scheme to Deutsche Finance International for c. £35.6m.
"I'm thrilled to be able to announce a second successful transaction in Leicester's dynamic riverside this month, adding to the area's fast-growing desirability. This scheme will offer a fantastic lifestyle for residents, with community and wellbeing support alongside excellent facilities, including workspaces as more people work from home.

The UK's market for rental homes remains very strong, with a growing population of renters seeking a better rental experience and lifestyle. We also see very strong international and domestic demand from institutional investors who are looking for high-quality assets that will deliver long-term returns."

Alex Pease

Chief Investment Officer of Watkin Jones