"We are delighted to have secured institutional investment with LGIM for this exciting scheme.  Watkin Jones has a strong track record of development in the South Coast having completed a sizeable PBSA development in Brighton back in 2013.  

Hove Gardens is our first BtR development here and we are really excited as Brighton and Hove is one of the UK's most dynamic cities.  Not only does it offer excellent employment opportunities, with tech being the fastest growing sector in the city, but it also offers wide range of bars, shops and restaurants combined with a thriving music and arts scene making it a fantastic place to live and work."

Alex Pease

Chief Investment Officer of Watkin Jones
Watkin Jones, the UK's leading developer and manager of residential for rent homes, with a focus on the build to rent (BtR) and student accommodation (PBSA) sectors, is pleased to announce exchange of contracts for the sale of Hove Gardens, a BtR scheme in Hove. The transaction is on a forward funding basis to one of Europe's largest asset managers Legal and General Investment Management (LGIM) on behalf of its Legal & General Retirement (LGR) business, for circa £76.5 million.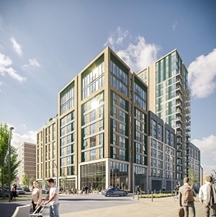 The 216-apartment development, on Ellen Street which is near Hove station, is being delivered in partnership with contractor RG Group and is due to complete by July 2023. It will comprise 31 studios, 101 one-bed, 73 two-bed and 11 three-bed apartments, 324 cycle spaces, 31 basement car parking spaces alongside 5,000 sq ft of amenity space including a management suite and potential to offer a resident's gym and home working spaces. 

Residents will have access to two landscaped communal courtyard gardens on the first floor and two roof gardens on the seventh and twelfth floors, both with sea views.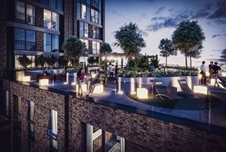 Brighton & Hove is an ever-growing city where people want to live and work. The ground floor of the scheme will feature some commercial space creating an opportunity for Hove Gardens to tap into the growing demand in the city for high quality office space, particularly for the gaming and tech sectors. Brighton & Hove has seen impressive levels of job creation and new start-ups in recent years. Well known for its tourism and creative sectors, the city is now a hotspot for tech, with the sector growing by more than 40% over the past five years. Finance and insurance are also major employers, American Express head-quartered in the city as well as Legal and General who have an office a short distance away from the development.

The residential accommodation will be rated Home Quality Mark Level 3 with the commercial space achieving BREEAM Excellent.

Hove Gardens sits on a one-acre site that used to accommodate four light industrial units.  The new scheme, which has unconditional planning, will range from six to 18 storeys in height, providing the upper floors with far reaching views of Hove.  The building has a modern design which has been fused with Hove's traditional architecture and that of the wider south coast area.
"The completed development will be the first of its kind in Hove transforming a warehouse brownfield site into a vibrant new place whilst helping to tackle the city's shortage of housing.

LGIM Real Assets has over 5,000 homes across 15 schemes in the UK, bolstering Legal & General's continued commitment to the regions, the levelling up agenda, and the growing strength of regional hubs across the UK."

Mike Powell

Senior Transactions Manager for LGIM
So far this year, LGIM Real Assets has welcomed its first residents to its flagship Mustard Wharf schemes in Leeds, Box Makers Yard in Bristol and completed the final phase of The Slate Yard in Salford, plus committed over £150m in investments to Birmingham and Leeds respectively. With a rapidly growing portfolio of over £2bn and a pipeline to deliver a further 7,500 homes by 2025, LGIM Real Assets remains a leader within the sector.