Watkin Jones, the UK's leading developer and manager of residential for rent homes, with a focus on the build to rent (BTR) and student accommodation (PBSA) sectors, is pleased to announce it has received resolution to grant planning permission for an over 600-home mixed-use BTR and PBSA scheme in Bath.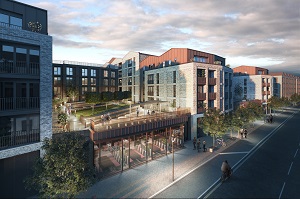 The c£130m GDV scheme will create 316 one, two and three-bed homes across two BTR buildings, 95 of which will be classed as affordable and offer significantly reduced rents, as well as 335 student homes in a third building. Completion is expected in phases from 2024 to 2025.

The scheme will be future proofed by meeting high environmental sustainability standards with the student building targeting BREEAM 'Excellent', and the BTR targeting the equivalent Home Quality Mark Level Four. 860 secure cycle parking spaces will be provided, along with a car club and electric charging points for the parking spaces available.

The site, on Lower Bristol Road, will replace a car showroom and is within a 15-minute walk of the historic centre of the city, as well as boasting excellent sustainable transport options including the nearby National Route Four cycling route, local buses and Bath rail station.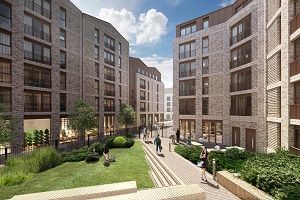 Residents will be able to enjoy landscaped communal courtyard gardens on the first floor and further biodiversity will be added throughout the scheme, including new trees planted on the frontage to add to the attractiveness of the wider area. 

Watkin Jones has an excellent track record of delivery in Bath, delivering three schemes in the last five years that have added over 250 new homes for residents or students. 
"This scheme will offer a fantastic living experience for residents in a highly sustainable location near the centre of Bath. I'm thrilled that the committee saw the value that we will bring to the community, with hundreds of environmentally focused new homes that will appeal to a diverse range of people created on a brownfield site.

The latest RICS data shows that demand for rental housing is rising as sharply as supply is falling with the South West seeing a fast-growing gap, so creating new homes to rent has never been more important. We continue to receive huge interest from institutions, which are seeking to invest in high-quality schemes that will maintain their value as places to live for residents and add desirability to the wider community for decades.
"

Alex Pease

Chief Investment Officer of Watkin Jones