Watkin Jones, the UK's leading developer and manager of residential for rent homes, with a focus on the build to rent (BtR), co-living and student accommodation (PBSA) sectors, is pleased to announce the receipt of full planning permission for its co-living scheme on Gladstone Road in Exeter.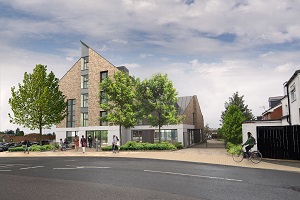 The 133-studio scheme will place an emphasis on community living with residents enjoying a shared kitchen, lounges, library, cinema room, gym, courtyard garden and dining area, as well as co-working space. The development is close to the centre of Exeter and offers extensive bike storage to make the most of the excellent local cycle routes within the city and the surrounding countryside. The scheme is due to complete in 2022.
The site is a former ambulance station and Watkin Jones worked with the South West Ambulance Service Trust (SWAST) at the start of the covid-19 outbreak to keep the site's facilities available as part of the NHS response to the pandemic. The application was supported by SWAST for its potential to provide housing for NHS workers at the nearby Royal Devon & Exeter Hospital, and was further supported by the Exeter Cycling Campaign for the quality of cycling provision. Twenty per cent of the accommodation will be affordable private rent.
"Co-living is increasingly popular, and this scheme is a fantastic example why. It will offer an active community and lifestyle for residents in a highly desirable location, with almost instant access to Exeter's dynamic centre. We are particularly pleased to have had the support of local organisations that recognise the benefits and demand for this scheme.

Institutional and resident interest across UK residential for rent remains very strong, so we are excited our growing pipeline is driving forward to meet this demand. Institutions are looking for high-quality rental assets that offer strong long-term returns, and, after the pandemic, renters increasingly want great homes with in-built lifestyle and welfare provision."

Alex Pease

Chief Investment Officer of Watkin Jones
- ENDS -
For further information:
Media enquiries:
| | |
| --- | --- |
| Watkin Jones plc (operational/leadership) |   |
| James McLarin, Head of External Communications |   |
|   | Tel: +44 (0) 330 912 4138 |
| james.mclarin@watkinjones.com | +44 (0) 7769 295 590 |
NOTES TO EDITORS
Watkin Jones is the UK's leading developer and manager of residential for rent, with a focus on the Build to Rent and student accommodation sectors. The Group has strong relationships with institutional investors, and a reputation for successful, on-time-delivery of high-quality developments. Since 1999, Watkin Jones has delivered 43,000 student beds across 130 sites, making it a key player and leader in the UK purpose-built student accommodation market. In addition, the Fresh Property Group, the Group's specialist accommodation management company, manages over 20,000 student beds and Build to Rent apartments on behalf of its institutional clients. Watkin Jones has also been responsible for over 80 residential developments, ranging from starter homes to executive housing and apartments. The Group is increasingly expanding its operations into the Build to Rent sector.
The Group's competitive advantage lies in its experienced management team and business model, which enables it to offer an end-to-end solution for investors, delivered entirely in-house with minimal reliance on third parties, across the entire life cycle of an asset. Watkin Jones was admitted to trading on AIM in March 2016 with the ticker WJG.L.