Watkin Jones, the UK's leading developer and manager of residential for rent homes, with a focus on the build to rent (BtR), co-living and student accommodation (PBSA) sectors, is pleased to announce that it has received resolution to grant permission for a 370 bed PBSA scheme in the heart of Swansea, its second in the city. Watkin Jones acquired the site in April 2021.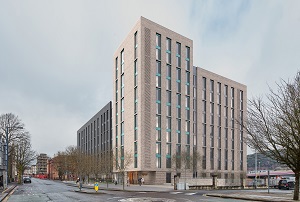 The £35.0 million GDV development is designed to be sustainable and future proofed, targeting a BREEAM 'Very Good' rating, and the soft landscaping of the wider site will add to the urban biodiversity of the area. It is also expected to add over £24.0 million GVA to the local community over the next ten years, with residents estimated to spend approx. £6.2 million annually in Swansea's city centre. The brownfield site, next to Swansea railway station, is within an easy walk of the city's universities and previously housed the Valuation Office Agency.
Once completed, in time for the 2023/24 academic year, residents will be able to enjoy stunning views from their windows and from the roof terrace that will look out over the city to the sea. The scheme will also offer a range of amenities, including beautiful courtyards for residents to relax and socialise in.
"Swansea continues to build its reputation as a destination of choice for students and I am thrilled to have received such strong support for this scheme. It will absolutely transform the site of a run-down office block into sustainable and high-quality homes for students, relieving pressure on local housing supply and offering a great living experience.

PBSA remains a very strong asset class for investors both from the UK and internationally. This is driven by rising demand and, as A-level results day approaches, we expect to see students and their families seeking out the best purpose-built and managed accommodation for its inbuilt community and wellbeing support."

Alex Pease

Chief Investment Officer at Watkin Jones Group
The development will add much needed student housing capacity in the city following a recent boom for the city's universities. Swansea University student numbers have increased 11.5% over the last three years, while students from Trinity St David's University have increased by 47.9%. UCAS recently reported an overall increase in student applications for September 2021.
- ENDS -
For further information:
| | |
| --- | --- |
| Watkin Jones plc |   |
| Alex Pease, Chief Investment Officer | Tel: +44 (0) 20 3617 4453 |
|   | www.watkinjonesplc.com |
Media enquiries:
| | |
| --- | --- |
| Watkin Jones plc (operational/leadership) |   |
| James McLarin, Head of External Communications |   |
|   | Tel: +44 (0) 330 912 4138 |
| james.mclarin@watkinjones.com | +44 (0) 7769 295 590 |
NOTES TO EDITORS
Watkin Jones
Watkin Jones is the UK's leading developer and manager of residential for rent, with a focus on the Build to Rent and student accommodation sectors. The Group has strong relationships with institutional investors, and a reputation for successful, on-time-delivery of high-quality developments. Since 1999, Watkin Jones has delivered 43,000 student beds across 130 sites, making it a key player and leader in the UK purpose-built student accommodation market. In addition, the Fresh Property Group, the Group's specialist accommodation management company, manages over 20,000 student beds and Build to Rent apartments on behalf of its institutional clients. Watkin Jones has also been responsible for over 80 residential developments, ranging from starter homes to executive housing and apartments. The Group is increasingly expanding its operations into the Build to Rent sector.
The Group's competitive advantage lies in its experienced management team and business model, which enables it to offer an end-to-end solution for investors, delivered entirely in-house with minimal reliance on third parties, across the entire life cycle of an asset. Watkin Jones was admitted to trading on AIM in March 2016 with the ticker WJG.L.